Home
How to prepare your house for a sale
A picture is worth a thousand words. How many times have we heard that? There are those who say that it is not so determinant, but the truth is that when it comes to selling or renting your home, the first impression is what really counts. Today we want to talk about some essential steps that will improve the options to sell (or rent) your house in Barcelona and we will explain what home staging is, an increasingly habitual practice that could help the buyer better imagine what his life in the house would be like.
1. Order and cleaning
It sounds like something too basic, but just take a look at the real estate listings to realize that not everyone takes these factors into account. Advertising your house with images full of objects (not to mention if it is also dirty) not only creates a sense of disorder, but also makes the house look older and smaller. Having the advice of a real estate agent and a professional photographer when it comes to portraying your house can make, without a doubt, the difference.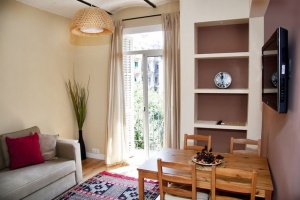 2. Sensation of amplitude
This would only apply to furnished houses, of course. It is not about throwing furniture to make the house more spacious, but to distribute them so that there is a feeling of greater space. It also helps to  use neutral tones for walls and curtains, use light well, and get rid off those furniture and objects that do not have a justified use.
3. Neutral and universal environment
When you are showing your house, it is important that the decoration remains as neutral as possible. Perhaps you love the oriental ornaments and the Buddha head you bought on your last trip to Thailand looks wonderful on your living room furniture. Sure. But if you want to sell your house, you should keep in mind that the more personality the property has, the more difficult it will be for the potential buyer to imagine him/herself inside it. And the visits hardly last a few minutes so there is not much time for the imagination. It must be love at first sight.
4. Decoration and home staging
At all times it is about captivating the buyer and for that it is important to highlight the strengths and try to solve the possible defects. It is not a question of investing in reforms, but you can give a facelift to the house so that its appearance is much more attractive. If the walls are stained or dark colored, it may be a good idea to paint them in white, beige or gray: light and simple tones. Other things to keep in mind are the smells: there must be a good aroma when entering the house, good ventilation, a very simple picture on the walls…
And this is where the popular home staging comes into practice and consists precisely of gathering all the above tips and make your home absolutely irresistible by the proper use of space, good lighting and decorating elements that makes your home elegant and a wonderful place to live in.
At Casc Antic BCN we make a personalized marketing plan for each property and we make professional photographs to highlight your ad and differentiate it from other publications. The goal is to stand out and be seen by a larger number of buyers, both domestic and foreign. If you have questions or need advice to prepare your home for sale, do not hesitate to contact us.
Related Articles